El Panda Original by Muttpop
$

59.00
Sold out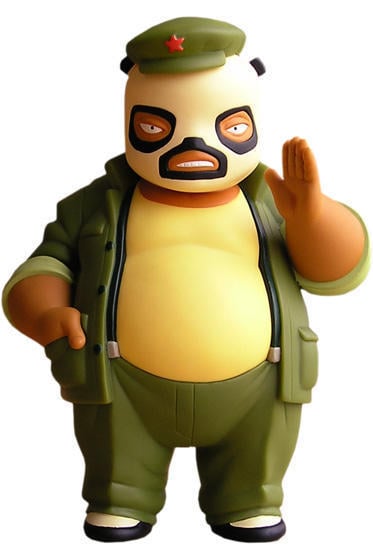 Approx. 8.25" Tall
Painted Rotocast Vinyl
Removable Cape Military Cap
Rotating Head & Rotating Left Forearm
Despite not speaking the language and asserting that "Chop Suey" is a traditional dish in Mainland China, El Panda believes he is Chinese. His distorted interpretation of Chinese culture has developed through obsessively watching dubbed kung fu films and regular visits to China Town. El Panda refuses to speak in any language other than Chinese. Unfortunately, El Panda does not know Chinese. El Panda communicates through indiscernible audible gibberish that he has hired an elder Chinese man to translate for others. Since El Panda isn't really speaking Chinese, his Chinese translator invents translations as he sees fit. El Panda and Tequila have been rivals since elementary school. Their hatred for one another has grown greater with age, much like a fine bottle of Shaoxing rice wine.
Manufacturer: Muttpop
Dimensions: 8.25 inches
Limited Edition.

WARNING:
This is collector's toy only. It is NOT designed or made for Children. Not for use or handling by anyone under the age of 15.